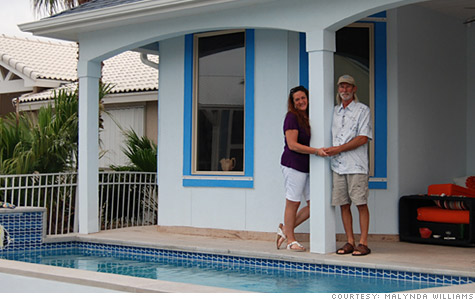 Her first buy came in October 2008, a vacation home on the Texas Gulf Coast, 225 miles south of her home base in College Station. She and husband John planned to retire there someday.
"My husband used to travel for work in the oil fields," she said. "We knew it was reasonable to buy a home there, and the people are so friendly."
They bought a four-bedroom place for $540,000 in Aransas pass near Rockport, a city of 8,000 residents on Aransas Bay.
The area boasts a nice beach and great fishing. Visitors from all over the world make it their base for trips to Aransas National Wildlife Refuge. Rockport is also home to many "winter Texans," northerners escaping the big chill.
John soon sold his business building natural gas facilities, and began spending time in Rockport. Malynda kept her retail consulting job for Xerox in College Station. To be able to stay in Rockport most of the time, she decided to install a home office and hired a cabinet maker to put it in.
The cabinet maker mentioned that he also builds vacation homes to rent, and a light bulb went off. "I can do that too," Williams said to herself.
Williams found a two-bedroom on the water for $250,000. It sleeps 12, has its own dock and provides easy access to great fishing waters. "There was very little work to do on it and the deal included the furnishings," Williams said. (Ask the Expert:
'Should I buy a vacation home?'
)
The next purchase was a five-bay storage property she bought for $119,000 in April 2010. She and John use it for their own stuff, but it came with a 750 square foot apartment, which she rents for $600 a month. (
Latest home price forecasts in your area
.)
The latest deal came this past winter and seemed, at first, like a steal. Williams paid just $140,000 for a six-bedroom, five-bath, "lodge-like" house a few blocks off the shore, but a problem cropped up.
"The home is 2,180 square feet," she said, "and 460 of that, right in the middle, was a mobile home. Its axles were rusting."
A previous owner, maybe two, must have expanded the living space of the mobile home by building wings all around it. Fixing the axles involves tearing out the core and rebuilding it. That will improve the house but cost upwards of $25,000.
Williams had been getting calls from renters since she first put the rental online in late March, at $1,800 a week and up. Now, she can't book until June when the repair is finished, so there's lost income.
She rents out the homes for short-stays -- weekends, weeks or months. That's more work, because she has to manage the bookings and supervise maintenance and cleaning crews. But it's also more profitable, as long as tourists keep coming.
She set the weekly rates at $900 to $1,500 for the two-bedroom, and the house has been booked about 70% of the time, bringing in $40,000 or so a year. Williams said that's enough to cover all expenses and turn a tidy profit.
That setback has not discouraged Williams. As early as later this year, she plans on adding to her five properties, which includes the old College Station residence, now rented out. She figures she can handle as many as 10.
She paid cash for her three of her acquisitions but she got the cash for the most recent by borrowing against the couple's investment portfolio of stocks and bonds.
That means lower closing costs, and the interest rate on the loan against her portfolio is less than that of a mortgage.
She has also started to manage vacation home rentals for other owners, which only adds lightly to her work, since she's already doing that for her own properties.
This new career will be a perfect retirement fit, she thinks, providing extra income and -- just as important -- fun.
"I can't be idle," she said, "and I don't want to be tied to a desk."