I just love mason jars, those wide-mouth glass canning jars that hold everything from strawberry jam to fireflies. That's one reason I've fallen for the DIY mason jar light fixture made by Taylor of the
MaryJanes & Galoshes blog.

Although Taylor originally wanted it to light up her gazebo, she loves it so much she's going to relocate it to her living room.

Taylor glued the jars to a wood plank, stuffed strings of Christmas lights into the jars, then hung the whole thing in her gazebo, giving the fixture a saloon-meets-fairyland feel.

It all took only four hours (not including drying time for the stain) and $31 to build. Can't beat that!

How She Did It

Taylor takes you step-by-step in her tutorial. Here are the basics:
Decide how long you want the fixture and select a plank accordingly. Taylor used a 2-by-12-inch plank that she cut 4 1/2 ft. long.
Lay out the mason jars (without tops) and cut holes in the plank using a hole saw bit the size of the tops of your jars. Sand the board until smooth.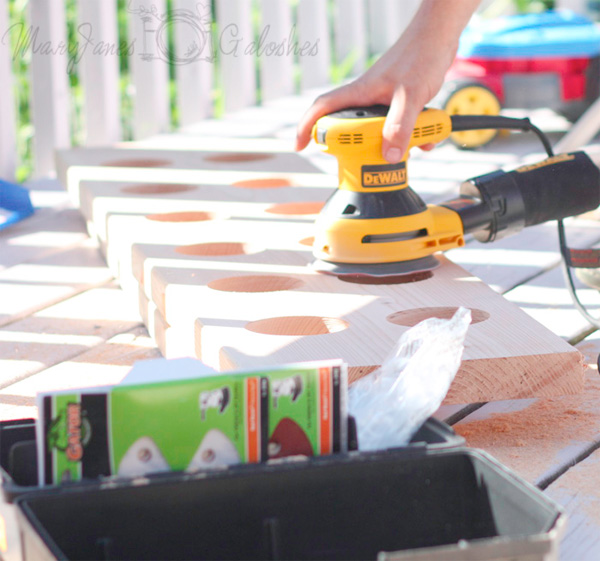 Drill two smaller holes in each end to attach rope to hang the fixture.
String 6 ft. of rope through the end holes.
Glue the open end of the jars into the plank. Wait 48 hours for the glue to cure.
Stuff jars with Christmas lights.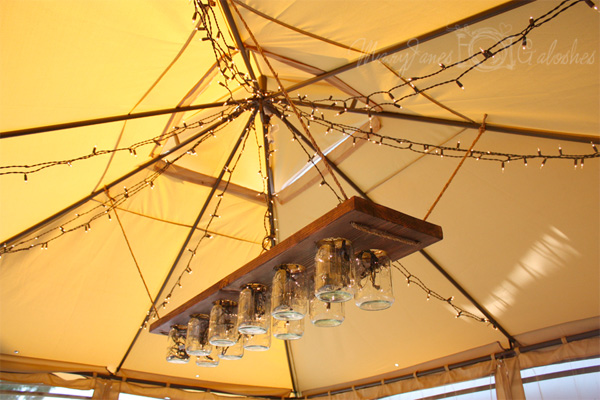 Lessons Learned
In her tutorial blog, Taylor says to use construction adhesive to glue in the jars. But she now refines that because construction adhesive "isn't real pretty and can be seen through the glass." She advises using a clear epoxy instead.
Choose lighting with a brown cord, which is less conspicuous than white or green cord.
Make sure you tie a secure knot when hanging the fixture. "Obviously, if this thing fell it would be a huge glass mess," she says.
Here's What it Cost
12 mason jars: $5 from a flea market.
Stain: Free, because Taylor used what she had on hand.
Christmas lights: $8 (off-season).
Total: $31
For more ideas on how to use mason jars, check out our 5 Bright Garden Lighting Ideasand 5 Deck Makeover Projects Under $300.
Check out the other stories in our Perk Up Your Patio series: A Pretty Pergola Goes Up in Only 14 Hours and Making a Vertical Garden Out of an Old Window Frame. At the end of the month, you can vote for your favorite.
Be sure to see our other amazing projects series, including our laundry room redo ideas, our fabulous pantry projects, and these delightful stairway makeovers.